Description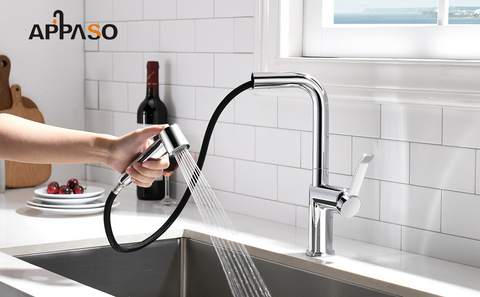 Le style de cuisine moderne unique est idéal pour votre vie.
Fonctions spéciales:
2 Types de jets
Aimant d'amarrage
Matériau sans plomb
Facile à nettoyer
Conception coulissante
SRS anti-empreintes digitales et taches d'eau
Cartouche en céramique : efficacement étanche, durable.
Protection contre la corrosion et l'abrasion, la saleté et les rayures.
APPASO robinet de cuisine extractible est en alliage de zinc.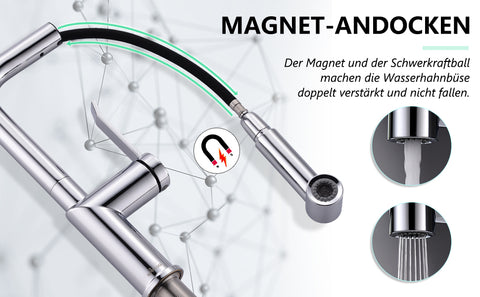 APPASO vous offre le meilleur
Le style stable augmente le sens de la hiérarchie dans la pièce, est anti-salissure et facile à entretenir dans la vie quotidienne, ce qui montre le goût du propriétaire.
La plage de pivotement à 360 ° assure un rayon d'action confortable.
L'absorption magnétique et le rétrécissement automatique de la boule de gravité rendent la buse du robinet doublement renforcée.
Revêtement 5 couches : la dureté de la surface est trois fois supérieure à celle des robinets normaux. Conception précise de la taille du robinet, s'adapte à la plupart des armoires sous le comptoir.
Cartouche en céramique de haute qualité : permet un contrôle précis du débit et de la température.
Le look moderne et la surface chromée lisse de haute qualité vous apportent une nouvelle expérience visuelle.
Les robinetteries de cuisine APPASO ne conviennent qu'à la haute pression.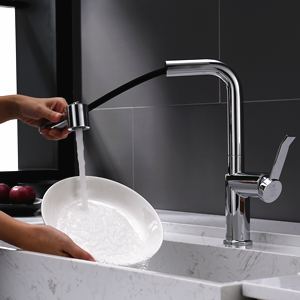 Conception coulissante
Le tuyau rétractable résout le problème que les robinets normaux ne peuvent pas bouger de manière flexible. Il peut être allongé ou raccourci. La flexibilité est meilleure. Pratique et pratique.
La vaisselle n'a pas besoin d'être déplacée d'avant en arrière pour le nettoyage. Nettoie très proprement. Ne projetez pas d'eau hors du pot.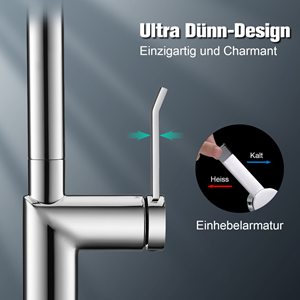 Surface chromée lisse de haute qualité
Type: Robinet de cuisine
Surface: chromée
Type de vanne: vanne en céramique
Matériau du manche: alliage de zinc
Matériau du corps principal: alliage de zinc
Spécialité eau: Mélange eau chaude et eau froide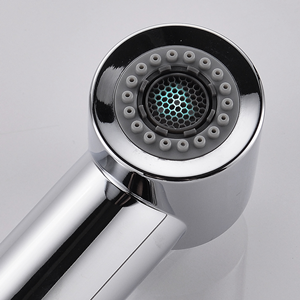 Plus facile à entretenir pour la buse en nid d'abeille
Empêche la formation de calcaire dur. Peut enlever la saleté plus proprement.
2 types de jets aux usages différents répondent à vos divers besoins.
La dureté de surface est trois fois supérieure à celle des robinets normaux.

Taille précise du robinet

Hauteur totale:33.02cm
Hauteur du bec:27.94cm
Portée du bec:20.32cm
Diamètre du trou de montage:3.55cm à 3.81cm, un seul trou.
L'épaisseur maximale du comptoir:5.08cm
Longueur du tuyau de douche extensible:50.8cm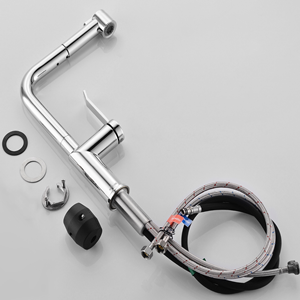 Etendue de la livraison
1 * Robinet de cuisine APPASO
1 * Rondelle en caoutchouc
1 * Boule de gravité
1 * Disque en métal
2 * Vis
1 * Manuel d'utilisation
1 * Carte après-vente
Bon à savoir

Le plaque de pont, le distributeur de savon et l'adaptateur ne sont pas inclus dans la livraison.Si nécessaire, s'il vous plaît acheter supplémentaire.
ATTENTION : Toutes les vidéos d'installation de produits universels peuvent être consultées sur YouTube : APPASO

A propos de nous
Nous, APPASOTechnology, sommes une société spécialisée dans la recherche et le développement ainsi que dans la fabrication de robinets, qui sont fournis à des clients du monde entier. Nous avons plus de 200 000 familles aux États-Unis qui nous reconnaissent et nous félicitent.

Nous avons notre propre usine, une équipe de recherche et développement professionnelle, une équipe de surveillance et d'inspection du marché et une équipe de service client professionnelle pour contrôler strictement la qualité des produits et résoudre les problèmes essentiels pour les clients.

Nous nous souvenons chacun de notre culture d'entreprise : le client d'abord, la meilleure qualité de produit, consciencieux et responsable, pour parvenir à une situation gagnant-gagnant !

Les produits APPASO sont protégés par brevet. Apportez un style unique à votre cuisine!
Payment & Security
Your payment information is processed securely. We do not store credit card details nor have access to your credit card information.