Description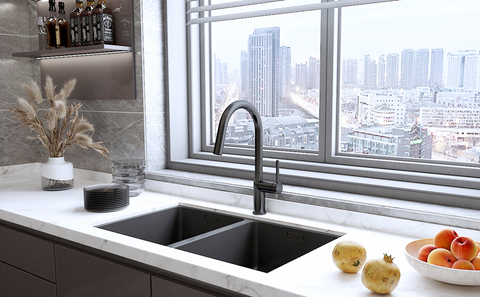 Choisissez APPASO,laissez-vous séduire par la vie en cuisine.
La cuisine n'est plus une pièce purement fonctionnelle, mais est de plus en plus devenue un élément d'une culture vivante sophistiquée.

La ferrure joue un rôle important en tant qu'élément de conception. Comme il est utilisé quotidiennement, tous les composants APPASO ont été soigneusement sélectionnés et coordonnés les uns avec les autres.Le robinet de cuisine doit non seulement impressionner visuellement, mais aussi être fonctionnel, stable et hygiénique.
Fonctions spéciales:
2 types de jets
Aimant d'amarrage
Matériau sans plomb
Conception coulissante
SRS anti-empreintes digitales et taches d'eau
Cartouche en céramique : efficacement étanche, durable.
Protection contre la corrosion et l'abrasion, la saleté et les rayures.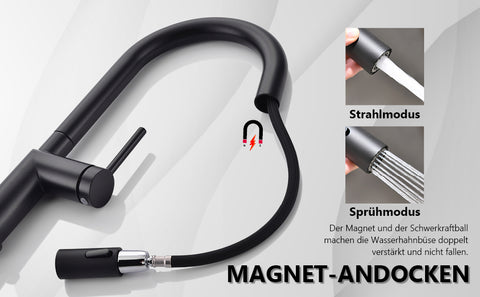 L'extérieur moderne et la surface mate lisse de haute qualité vous apportent une nouvelle expérience visuelle.
La plage de pivotement à 360 ° assure un rayon d'action confortable.
L'absorption magnétique et le rétrécissement automatique de la boule de gravité rendent la buse du robinet doublement renforcée.
Conception précise de la taille du robinet, s'adapte à la plupart des armoires sous le comptoir.
Buses en caoutchouc uniques:empêche la formation de dépôts calcaires durs. Facile à nettoyer.
Cartouche en céramique de haute qualité:permet un contrôle précis du débit et de la température.
Revêtement 5 couches:la dureté de la surface est trois fois supérieure à celle des robinets normaux.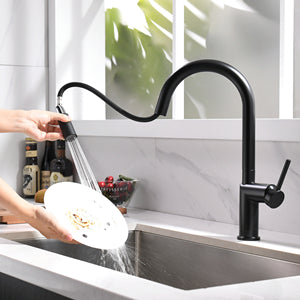 Conception coulissante
Le tuyau rétractable résout efficacement le problème du mauvais nettoyage.
Il est pratique pour les enfants de se laver la bouche et les mains.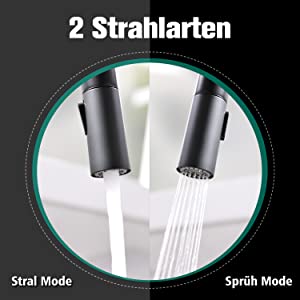 2 Types de jets
Modifiez les différentes méthodes de nettoyage en fonction des besoins de nettoyage.
Il est plus efficace pour la purification de l'eau. Réduit le gaspillage d'eau.
Le mode pulvérisation remplit les pots ou autres récipients d'eau plus rapidement.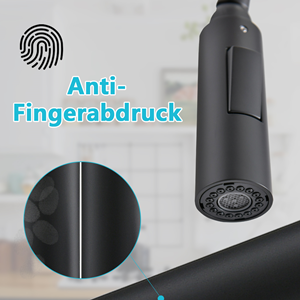 Conception anti-empreintes digitales 

Le revêtement noir mat du robinet de cuisine empêche efficacement les traces de doigts et les taches d'eau. Il peut garder l'éclat de l'apparence pendant longtemps.
Maintenir facilement. Un nettoyage normal avec un chiffon doux et de l'eau est suffisant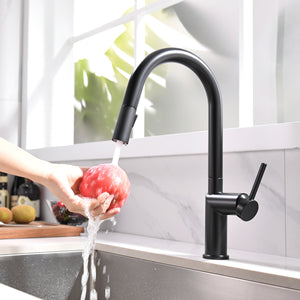 Material

Matériau du corps principal : acier inoxydable
Matériau du manche : alliage de zinc
Surface : noir mat
Valve: valve en céramique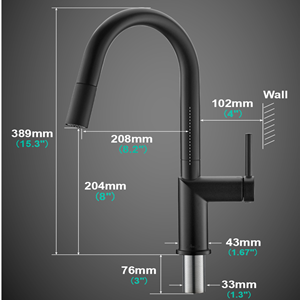 Taille précise du robinet
Hauteur totale: 38.9cm
Hauteur du bec: 20.4cm
Portée du bec: 20.8cm
Diamètre du trou de montage: 3.55 ~ 3.81cm
L'épaisseur maximale du comptoir: 5.08cm
Longueur du tuyau de douche extensible: 50.8cm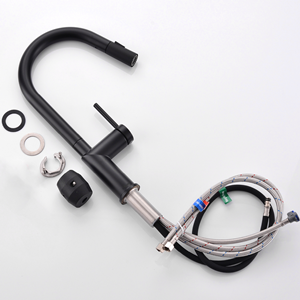 Etendue de la livraison
1 * Robinet de cuisine APPASO
1 * Rondelle en caoutchouc
1 * Boule de gravité
1 * Disque en métal
2 * Vis
1 * Manuel d'utilisation
1 * Carte après-vente
Bon à savoir

Le plaque de pont, le distributeur de savon et l'adaptateur ne sont pas inclus dans la livraison.Si nécessaire, s'il vous plaît acheter supplémentaire.
ATTENTION : Toutes les vidéos d'installation de produits universels peuvent être consultées sur YouTube : APPASO
A propos de nous
Nous, APPASOTechnology, sommes une société spécialisée dans la recherche et le développement ainsi que dans la fabrication de robinets, qui sont fournis à des clients du monde entier. Nous avons plus de 200 000 familles aux États-Unis qui nous reconnaissent et nous félicitent.

Nous avons notre propre usine, une équipe de recherche et développement professionnelle, une équipe de surveillance et d'inspection du marché et une équipe de service client professionnelle pour contrôler strictement la qualité des produits et résoudre les problèmes essentiels pour les clients.

Nous nous souvenons chacun de notre culture d'entreprise : le client d'abord, la meilleure qualité de produit, consciencieux et responsable, pour parvenir à une situation gagnant-gagnant !

Les produits APPASO sont protégés par brevet. Apportez un style unique à votre cuisine!
Payment & Security
Your payment information is processed securely. We do not store credit card details nor have access to your credit card information.