Description
Commençons la vie de cuisine intelligente avec APPASO
L'apparence est simple et unique, sans décoration excessive. Mais il y a aussi une mélodie spéciale qui donne un effet visuel simple et rafraîchissant.
C'est une chose super utile à avoir. Cela permet de gagner du temps, cela économise des efforts lors du nettoyage et cela rend le nettoyage de votre cuisine plus sûr.
Pourquoi serez-vous impressionné par notre robinet de cuisine escamotable?
Eau à 2 fonctions : le premier est un jet aéré qui est idéal pour les travaux sur votre évier comme le lavage des mains ou la vaisselle. Le second est un spray qui s'occupera des travaux les plus lourds comme le rinçage des fruits et légumes. 
Système de rétraction : la lance de pulvérisation est une conception à ressort facile à utiliser qui a en fait été intégrée à l'apparence générale et lorsque vous avez fini de l'utiliser, elle se remet en place facilement.
Flexible et lisse : le tuyau flexible de 508mm peut atteindre tous les coins de votre évier, une rotation flexible à 360 ° peut vous permettre de poser le plus grand pot.
Valve anti-goutte : ce robinet de cuisine utilise une valve à disque en céramique qui non seulement aide à prévenir les fuites, mais améliore également le bon fonctionnement général.
Entretien plus facile : buses faciles à nettoyer, il suffit d'essuyer avec un doigt. Facile à entretenir l'apparence du robinet, dure plus longtemps sans aucun souci.
Points forts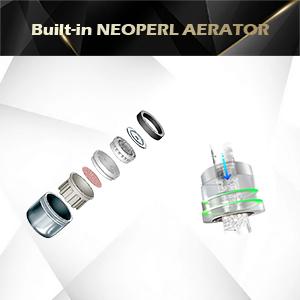 Eau plus douce que les autres
Le pulvérisateur rétractable APPASO adopte un aérateur en nid d'abeille, réduisant le débit d'eau et économisant plus d'eau jusqu'à 30%!
N'éclaboussera pas l'eau partout, vous offrant une eau plus douce que les autres.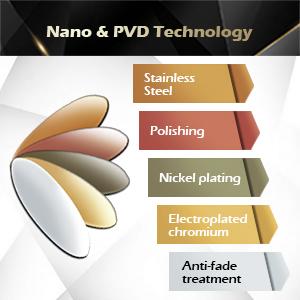 Revêtement 5 couches, durent plus longtemps
La finition sans tache avec une épaisseur de couche de nickel est > 10,0 µm, qui est généralement de 5,0 µm
Le nanomatériau résiste aux empreintes digitales et aux taches
Le procédé de dépôt physique en phase vapeur (PVD) garantit que la composition de la surface est trois fois plus dure et dix fois plus résistante aux rayures.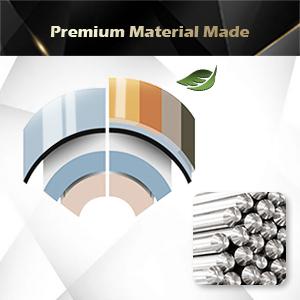 Santé et matériaux sûrs
Le matériau d'un robinet détermine sa durabilité, c'est pourquoi APPASO sélectionne soigneusement chaque matériau, ce qui minimise les risques de corrosion et de rouille.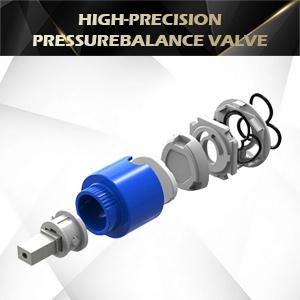 Matériau en laiton massif, cartouche haut de gamme
Ce robinet à ressort a une construction en laiton massif et une vanne à disque en céramique à fonctionnement doux pour un service fiable et le service le plus durable
Laiton massif + Acier Inoxydable 304 + Zinc + Tuyau PEX + Plastique ABS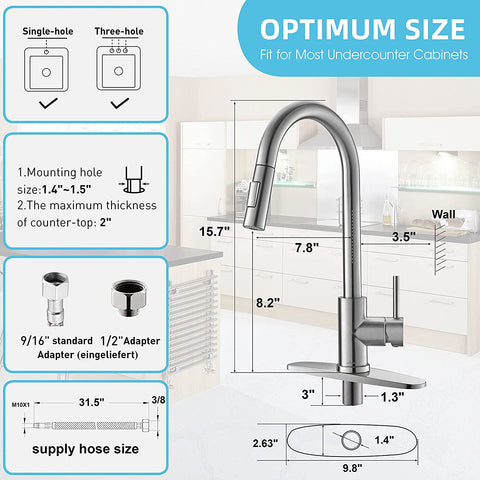 Caractéristiques techniques

Hauteur du bec : 208mm
Portée du bec : 200mm
Hauteur totale : 400mm
Tirez le tuyau : 508mm
Conduites d'eau : 800mm
Taille du trou de montage : 35mm~38mm"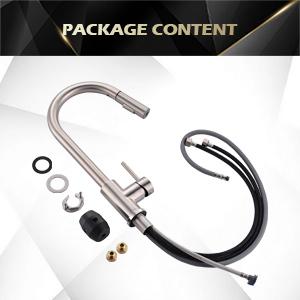 Qu'y a-t-il dans la boîte?

1 * Robinet de cuisine APPASO
1 * Rondelle en caoutchouc
2 * Vis
1 * Manuel d'utilisation
1 * Carte de service client
Bon à savoir

Le plaque de pont, le distributeur de savon et l'adaptateur ne sont pas inclus dans la livraison.Si nécessaire, s'il vous plaît acheter supplémentaire.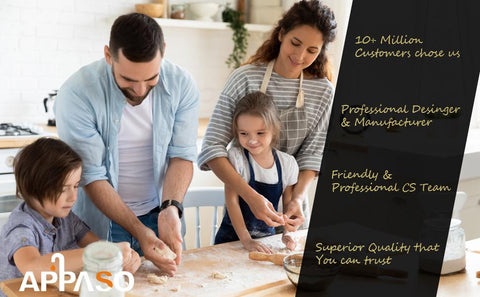 Votre satisfaction est notre objectif

APPASO s'est consacré à divers robinets, des produits d'ingénierie qui établissent de nouvelles normes à la fois pour une efficacité élevée et une haute qualité.

Donc, si vous êtes le genre de personne qui ne veut pas que l'évier de votre cuisine reste à l'arrière-plan.
Ensuite, vous pouvez voir nos modèles,
Il se démarque vraiment et vous aidera à faire une déclaration avec le décor général de votre cuisine.
Explorons ensemble les joies de la cuisine!!!
Payment & Security
Your payment information is processed securely. We do not store credit card details nor have access to your credit card information.