Description
Choisissez APPASO et laissez-vous séduire par la vie en cuisine
Il y a des cuisines intelligentes partout. Apporte beaucoup de confort dans notre vie.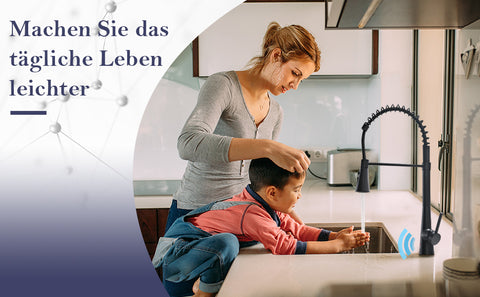 APPASO robinet de cuisine chauffe-eau à capteur avec 3 types de jets, robinet de cuisine haute pression
Le robinet à capteur extractible facilite non seulement le nettoyage et raccourcit le temps de nettoyage, il rend également nos familles plus saines et plus sûres, réduisant et évitant les infections croisées par des bactéries.
Capteur grand angle 120 °, les enfants n'ont pas besoin d'étirer leurs mains pour atteindre difficilement les boutons, ni de faire des mouvements dangereux pour ouvrir le robinet. Ils sont très dangereux. Avec un robinet sans contact, passez simplement votre main dans la zone de détection.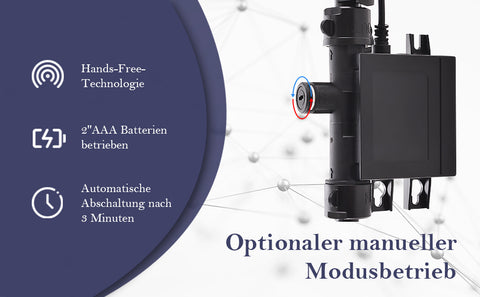 APPASO boîte à induction intelligente de haute qualité
On choisit la box induction avec la même configuration que la grande marque. Avec la technologie numérique moderne, très faible consommation d'énergie. Économie d'énergie et d'eau intelligente.
Le boîtier d'induction n'a pas besoin d'être retiré pour un fonctionnement manuel. Insérez le petit outil dans le petit trou et tournez-le à gauche ou à droite pour désactiver l'induction et l'utiliser comme un robinet normal.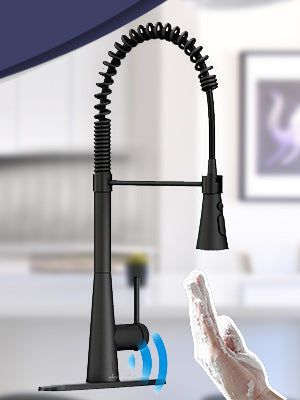 APPASO robinet de cuisine convient UNIQUEMENT à la haute pression
Hands-Free:Lorsque vos mains sont sales ou que vous avez simplement les mains pleines, ce robinet est parfait pour vous.
3 types de jets:Modifiez les différentes méthodes de nettoyage en fonction des besoins de nettoyage. Le mode pulvérisation remplit les pots ou autres récipients d'eau plus rapidement.
Économisez de l'eau:Si vous détestez gaspiller de l'eau, le mieux est de choisir un robinet à capteur. Parce qu'il s'éteint automatiquement dans les 3 minutes.
Vitesse d'arrêt rapide de l'eau, effet d'économie d'eau clair.
Sans tache:Anti-poussière, anti-traces de doigts, anti-huile.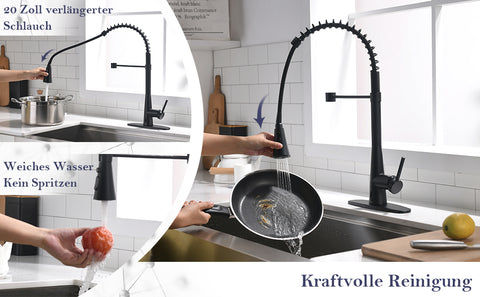 APPASO robinet de cuisine à capteur avec tuyau flexible de 20 pouces et 3 types de jets
Tuyau flexible de 20 pouces assez long, une rallonge n'est PAS nécessaire. Peut être déplacé et rincé librement pour une scène de nettoyage confortable.
3 modes de jet (jet, pulvérisation, pause) sont très pratiques à utiliser, répondent à vos exigences particulières.
Les grands pots et vases peuvent également être facilement remplis avec ce mélangeur de cuisine.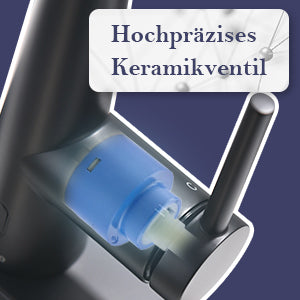 500 000 tests de cycle ON/OFF
La cartouche en céramique de haute qualité a passé 500 000 tests de cycle pour garantir qu'elle durera plus de 10 ans.
Vitesse d'arrêt rapide de l'eau, effet d'économie d'eau clair.
Empêche la poignée de fuir.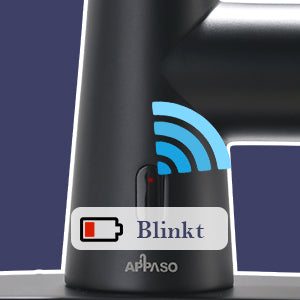 Une LED indicateur de batterie faible
Lorsque la batterie est inférieure à 10 %, l'indicateur de batterie faible clignote jusqu'à dix fois. Il montre que la pile AA doit changer.
La distance du capteur est jusqu'à 5,9 ".
Pas de piles incluses.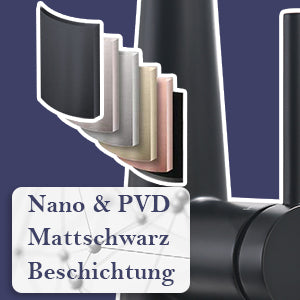 Revêtement 5 couches de haute qualité
Revêtement anti-taches noir mat, épaisseur de couche > 10,0 µm, généralement 5,0 µm.
Traitement de surface à 5 couches en métal galvanisé en profondeur. 
Les nanomatériaux peuvent empêcher les empreintes digitales et les taches.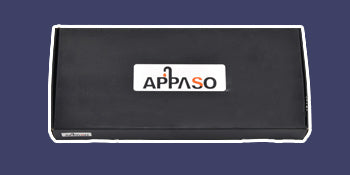 Ce que vous obtenez:
1 * Robinet capteur APPASO
2 * Vis
1 * Boule de gravité
1 * Disque en métal
1 * Rondelle en caoutchouc
1 * Boîtier de commande de capteur
1 * Manuel d'utilisation
1 * Carte de service client
Bon à savoir

Le plaque de pont, le distributeur de savon et l'adaptateur ne sont pas inclus dans la livraison.Si nécessaire, s'il vous plaît acheter supplémentaire.

Votre satisfaction est notre objectif
APPASO s'est concentré sur la conception et la production de robinets, et a accumulé des éloges et une réputation.
Nous continuons à innover et à entreprendre pour ajouter de la gloire à votre belle vie.

Nous attachons une grande importance à votre expérience et vos besoins, et nous améliorons constamment pour vous rencontrer et concevoir de meilleurs produits pour vous.
Nous espérons sincèrement que vous en enseignerez davantage. Merci!
Payment & Security
Your payment information is processed securely. We do not store credit card details nor have access to your credit card information.