Description
Désormais, vous commencez à nettoyer facilement!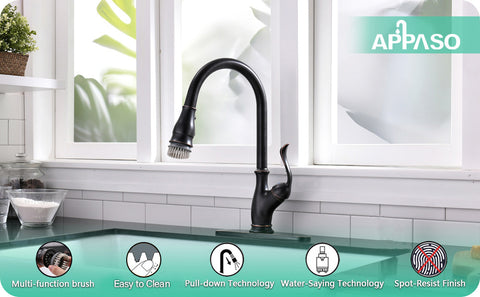 Design 100% original, protégé par des brevets!
Nous nous concentrons sur la conception du robinet et plus comme par magie,
Fini bronze huilé créant un look intemporel,
Le design classique dégage un charme unique,
Les performances à coût élevé vous offrent un luxe confortable,
L'avoir,
Une meilleure façon de vivre l'eau,
Découvrez votre inspiration de cuisine et vivez magnifiquement...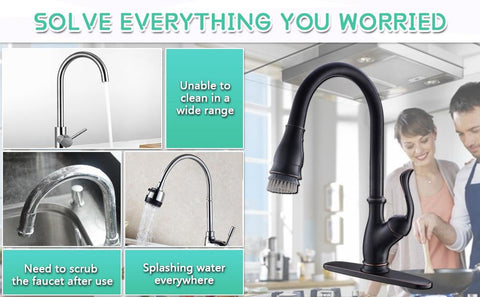 Avez-vous pris la peine de ces choses?
Il est temps de mettre à niveau votre ancien robinet de cuisine maintenant!
Ce n'est pas facile de nettoyer l'évier, vous ne pouvez pas nettoyer chaque recoin de l'évier?
Le robinet est plein de taches d'eau et de traces de doigts après utilisation et doit être nettoyé à chaque fois?
Le débit d'eau n'est pas facile à contrôler voire éclabousse partout?
Le pulvérisateur ne peut pas rester en arrière au robinet?
Choisissons notre robinet de cuisine APPASO avec pulvérisateur rétractable.

C'est mieux que les autres robinets de cuisine ordinaires et peut vous aider à nettoyer toutes les choses difficiles!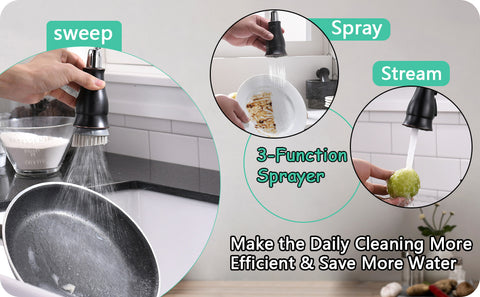 Conçu pour vous
Rotation à 360 degrés vous offre un espace de nettoyage plus large, vous pouvez poser la plus grande plaque.
Fini bronze huilé et sa forme intelligente dégage une atmosphère charmante qui vous ramènera au glorieux âge du bronze et vous livrera à l'excellente culture des récipients en bronze. D'autres admireront unique et votre noble.
Pulvérisateur à 3 modes vous apporte une expérience formidable lorsque vous nettoyez quoi que ce soit!
Plus de plaisir de cuisine
La conception de la brosse est brevetée et constitue une idée unique et innovante.

Pour la nouvelle idée du brossage mains libres, nous avons développé une brosse qui correspond à la tête de pulvérisation et la conception est protégée par brevet. Il est très efficace et pratique pour effectuer les deux tâches de lavage et de rinçage d'une seule main.
Material
Acier inoxydable 304 robuste
Tuyau PEX résistant aux hautes températures et à la pression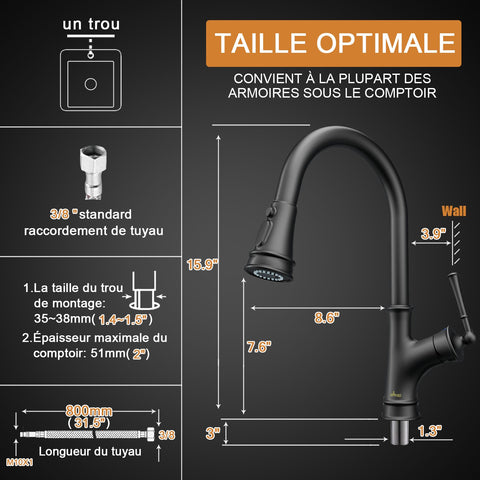 Caractéristiques techniques
Hauteur du bec : 7.8"
Portée du bec : 9,2"
Hauteur totale : 16"
Tirez le tuyau : 20"
Conduites d'eau : 30" (76 cm)
Taille du trou de montage : 1.4"~1.5"
Écrou de ligne de flottaison : 3/8" ou 1/2"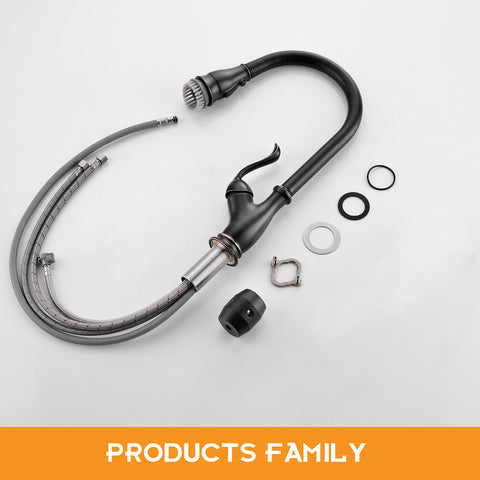 Qu'y a-t-il dans la boîte?

Robinet de cuisine APPASO
Accessoires : caoutchouc, joint, écrou
Manuel de l'Utilisateur
Brosser
Bon à savoir

Le plaque de pont, le distributeur de savon et l'adaptateur ne sont pas inclus dans la livraison.
ATTENTION : Toutes les vidéos d'installation de produits universels peuvent être consultées sur YouTube : APPASO
Votre satisfaction est notre objectif
REMBOURSEMENT À 100% DE 180 JOURS - Tous nos robinets de cuisine mains libres sont couverts par une garantie limitée de 5 ans. Pour toute question, n'hésitez pas à contacter notre équipe CS.
APPASO s'est concentré sur la conception et la production de robinets, et a accumulé des éloges et une réputation.
Nous continuons à innover et à entreprendre pour ajouter de la gloire à votre belle vie.
Nous attachons une grande importance à votre expérience et vos besoins, et nous améliorons constamment pour vous rencontrer et concevoir de meilleurs produits pour vous.
Nous espérons sincèrement que vous en enseignerez davantage. Merci!
Payment & Security
Your payment information is processed securely. We do not store credit card details nor have access to your credit card information.